PERSONAL STUDY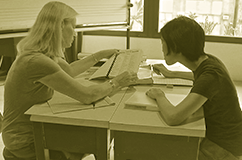 AN INNOVATION IN PRIVATE LESSONS FOR JAZZ SINGERS AND TEACHERS
MichMusic Personal Study is a mentorship program offering a holistic approach to learning that embraces all aspects of who you are – your strengths, your challenges, your blocks, your learning style, your passions and your dreams. See Menu of topics below.
INTERNET VIDEO CONFERENCING SESSIONS AVAILABLE!
Michele has worked with students over the internet from all over the US and Canada, plus Japan, Tasmania, Argentina, Germany, Spain, Austria, Reunion Island (Madagascar), Greece, Scotland, and more.
HOW IT WORKS  
THE MENU  
Fearless Vocal Improvisation (Level I)

Fearless Vocal Improvisation (Level II)

Solo Singing I – The Essentials of Jazz Singing

Solo Singing II – Playground for Jazz Singers

Working with the Rhythm Section

Preparing for Your Gig, Concert or Tour

Performance Essentials

Recording Your Demo or CD
Jazz Piano Made Easy (Level I)

Jazz Piano Made Easy (Level II)

Jazz Piano – Playing With the Rhythm Section

Jazz Ropes – Things You Need to Know

Lead Sheet Writing 101

Creative Rhythm Section Arranging

Reharmonization Madness

Organizing Your Gig Book

Music Fundamentals

Sight Reading/Ear Training

Building a Music Career You Love

Vocal Group Arranging (Level I)

Vocal Group Arranging (Level II)
Starting a Vocal Jazz Ensemble

Your Jazz Choir – Raising the Bar

Teaching Vocal Improvisation and Solo Singing

Coaching Your Student Rhythm Section
Coaching is available for established professional (local or visiting) and high school or college vocal groups. General feedback on all aspects of the music and performance, fine tuning, tips and so on.
INDIVIDUAL RATES  
1 Hour $110

3 Hours Prepaid $285

5 Hours Prepaid $450

1/2 Hour $60
*24-hours notice required to cancel or reschedule your lesson.
TEAM RATES  
For 2 persons to take the lesson together:

1 Hour $137.50

3 Hours Prepaid $375

1/2 Hour $75
For teams of 3 or more add 25% for each person.
*24-hours notice required to cancel or reschedule your lesson.
ARTIST RESIDENCY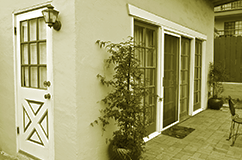 Come to Los Angeles for a day, a week a month or longer to study with Michele! This is a way to get to know Mich in a relaxed setting, have ample time for study and practice and enjoy Los Angeles at the same time.
We will establish specific goals and organize the number and length of sessions ahead of time.
In most cases, you will have free access to a place to practice (piano or singing), study, and/or work on an arrangement.
We can assist you with transportation info, local hotel or back house rental options, and info about things to do and music or other events in Los Angeles.
Don't be surprised if Mich invites you out for a meal, or to go on a hike, or out to hear music!
A few of out-of-town vistors who've come to study with Michele in past years:

T. Krammer (Netherlands)
M. Makela (Finland)
K. Helppie (Western Oregon University, US)
S. Takeshita (Japan)
R. Chu (Taiwan)
V. Hamel (Quebec City, Canada)
M. Akasaki & K. Chinen (Coming June 2013; Japan)
Vocal Group: Vox P (Denmark)
Vocal Group: The Idea of North (2 members, Australia)
WHAT PEOPLE ARE SAYING  
"I am so happy you are my teacher. You are amazing!"
"I just wanted to tell you how much I enjoyed my first lesson with you!! You are a wonderful teacher and I appreciate your patience and guidance so very much!"
"I learned more in an hour than I thought possible."
"By the way, I think you are a wonderful teacher and musician! There aren't too many around really, not with your skills."
"Hi Michele, I just wanted to thank you for being such an incredible teacher and mentor to me for the past three years and hopefully for many more to come…. Just wanted to thank you for teaching me pretty much everything I know thus far,…"
"Growing up as a classical pianist, I wasn't able to read a simple jazz lead sheet. With my hectic schedule, Michele has changed all of that in a matter of months. She is a fantastic teacher!"
"As an instructor, Michele is a very intelligent and experienced teacher, she knows what [the] student needs… I learned a lot from her and wish I [could] be her student again."
"Finding a teacher as effective as Michele feels like a once-in-a-lifetime opportunity. Thank you Michele!"
"As I said to your students, we were truly honored to have someone with us who is so vitally important to vocal jazz in the country. The weekend was a huge success."
"These lessons have been the best thing to happen to me in I can't remember when. I sang with more confidence on Sunday, scatted in several tunes…in front of a listening audience…SCARY…and really had a ball. Thanks for your patience and instruction."
"It was such a joy to have you in the house! Students reacted extremely positive; without exception: 'sweet, fantastic, princess from heaven, patient, peaceful, tranquil, understanding, warm, skilled, crystal clear, personal, gentile…….. You're such a professional and generous person!"
"I just listened to the comments you gave us at Cuesta again, and I REALLY appreciate everything you had to say! You always give such wonderful, accurate, and helpful input. Thank you, thank you, thank you! "
"I'm so glad I was able to get two lessons with you this week. You have no idea how much I appreciate your time and expertise and how much better I feel about my choices after I meet with you."
"Michele was an inspiration – so skilled, so kind, and she made scatting so much fun! "
"I just wanted to tell you that you have been a major influence in my life as a jazz musician."
"I cannot say enough how impressed I was with the work you did with the students to make this such a great festival. In fact, I received much feedback from both choral and instrumental directors in which they expressed their complete satisfaction with the level of musicianship and entertainment offered by the ensemble."
"…you really are such a great teacher. Not only are you ultimately knowledgeable, but you are so kind…you never make anyone feel like they're wrong or stupid. To me that is so damn valuable."
"Thank you so much for visiting Metropolia and Pop & Jazz, our students enjoyed your teaching and gave very good feedback of your lecture! And thank you also for your contribution to the conference, it was inspiring!"
"Thank you so much for visiting Metropolia and Pop & Jazz, our students enjoyed your teaching and gave very good feedback of your lecture! And thank you also for your contribution to the conference, it was inspiring!"